February 9, 2022. PHPRunner, ASPRunner.NET 10.7 release
build 38731
Fixed in this build:
'View as PDF' has been changed to 'View as' File + Display PDF files online option' (see the screenshot below);
notifications API - added option to enter Notifications table name;
Lookup wizard - radio/set of checkboxes is now fully compatible with View as HTML;
Edit as file - basic control. Fixed 'required' validation on Edit page;
fixed Amazon S3 file upload with "bad" symbols in the name;
fixed Edit page popup size issues when used with 'After Add - Open Edit page';
fixed problems with Spreadsheet mode + Readonly fields;
fixed problem with image permissions ith multiple List pages;
made SQL View-based lookup tables compatible with Dependent Lookups;
made Notifications appear on Dashboards;
.NET + search in lookup fields failed under server load;
fixed Edit as File downloading icons instead of file;
PHP - built-in web server didn't work well with PostgreSQL on some machines;
Dynamic permission created incorrect table structure in SQlite database;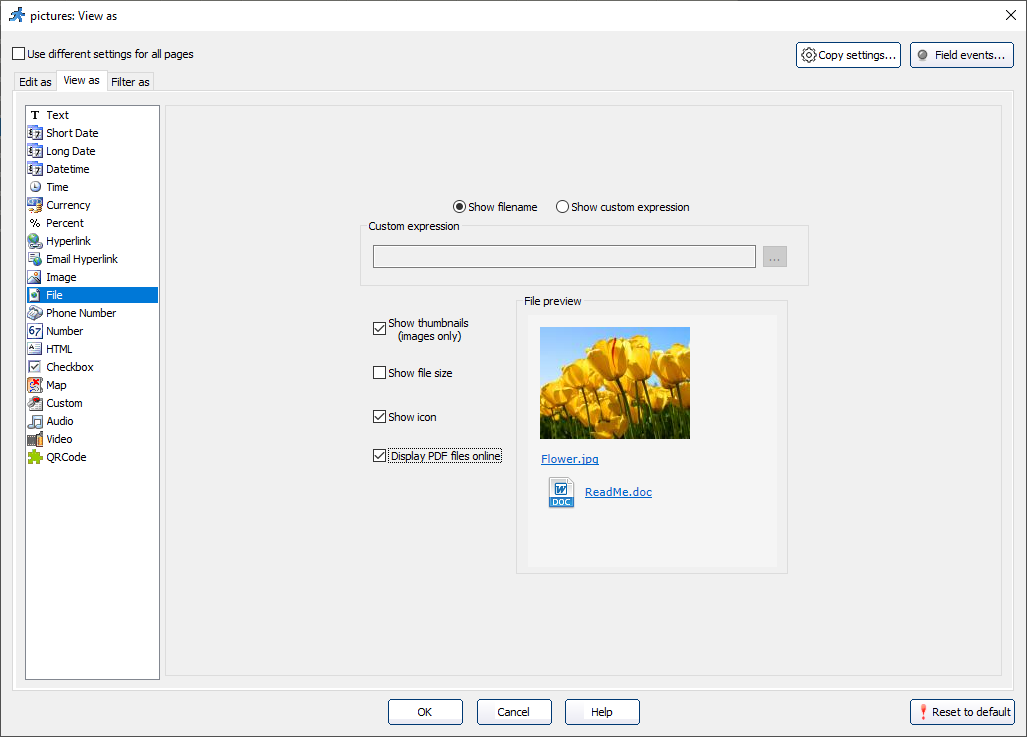 Customers who purchased less than twelve months ago can download this update via the control panel. Proceed to 'My purchases' and check 'Reg info' link next to your latest purchase.
Customers who purchased more than twelve months ago can renew their maintenance using links below:
The whole list of features in version 10.7:
https://xlinesoft.com/blog/2021/12/18/version-10-7/