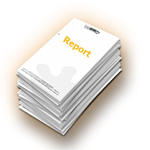 As indicated by the title, I think the best solution (free) to create documents and reports in PDF format is Jasper Report Server.
This solution consists of 2 parts:
A very powerful tool to design reports, test them and adjust them called Jasper Studio.
A reports platform (Jasper Report Server) that is developed in Java and that is excellent.


Payment, the Jasper Server solution (manufacturer Tibco / Jaspersoft) has a multitude of features being a complete BI (Business Intelligence) platform. https://www.jaspersoft.com/products/JasperReports-Server, in case you want to review these features.
What in this article I propose is a 100% PHP solution and is the replacement of the reports platform (developed in Java) by the Jasperphp solution https://github.com/quilhasoft/Jasperphp
So, we will continue using the Jasper Studio reports design tool and we will use Jasperphp's library (100% PHP).
Objective
Have a 100% PHP and Free solution, to create documents and reports in PDF, for developments made in Phprunner.
DEMO: https://fhumanes.com/report_jasper/
If you are interested in the subject and you want to access the explanation and the example code, you continue to read the article in this link.