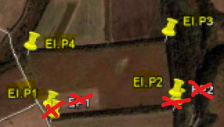 Above is a screenshot on how Bulgarians did it. Say, they collected 4 (four) GPS points to define a plot of land, added further
specific info on per plot basis and finally their software had been using the 4 GPS points to automatically calculate the plot size,
to draw same and finally to display it in a Google map.
As for me, this is the only productive way to go here as such approach would make tedious overlay creation to become obsolete.
From works of mine years ago to combat the Fall Army Worm pest in Africa, using air drones from China which use such 4 GPS
points based map to full automatically navigate the agro drone (without any human manual intervention) while spraying the acre,
I tied with a company in Germany by then which offers a complete range of features, including automatic GPS point collection, by
means of a smartphone app which can easily designed that way, owner's name, ID #, etc pp by means of entry fields which can be
easily added into the form, at a cost monthly cost of €169 for the admin access, and monthly €26 per user. After the form in the
smartphone is filled, the data set incl. GPS points is then sent to the server Germany by one finger touch on the SEND button
to finally end up in a downloadable Excel file format for the admin for further data processing.
P.S. @Omar - FYI, I just tasked an ultimate Excel Data into Maps Expert to bring his expertise, say, as the data collection side
is solved by smartphone app, centralized in a Hanover, Germany, server, the then downloadable Excel table with 4 GPS points
just needs a final step to via Excel formula and map integration to then forever get rid of the tedious overlay issues at all. By the
way,I have a low cost home project in Africa on a larger scale, so, I have own interest in such a time saving solution too.
Update 18th Jun 2021 - Excel Data Mapping experts signaled by today, they have a solution which even supercedes the basic
requirement after I showed them a scene in a Youtube video dated 2013.