The current build is 6629, updated October 20, 2010.
Download links
PHPRunner:
http://asprunner.com...er-setup53b.exe
http://asprunner.com...er-setup53b.zip
ASPRunnerPro:
http://asprunner.com...ro-setup63b.exe
http://asprunner.com...ro-setup63b.zip
Watch
What's new in this update
webcast
This beta won't interfere with currently installed ASPRunnerPro or PHPRunner. You can keep your previous version and run both programs side by side.
This upgrade will be free to all customers who purchased ASPRunnerPro/PHPRunner less than one year ago.
We'll send new registration keys once final version is released.
All other customers will be able to upgrade to new version for $99.
---
Known bugs and limitation in this beta
- some features were not yet tested in Internet Explorer
- Tabs/Sections will be added to View pages and (maybe) to Register page
- Field tooltips on Edit/Add pages. Not implemented yet in templates. Will be available in final version.
Major features in this update
1. Tabs/folding sections on Add/Edit pages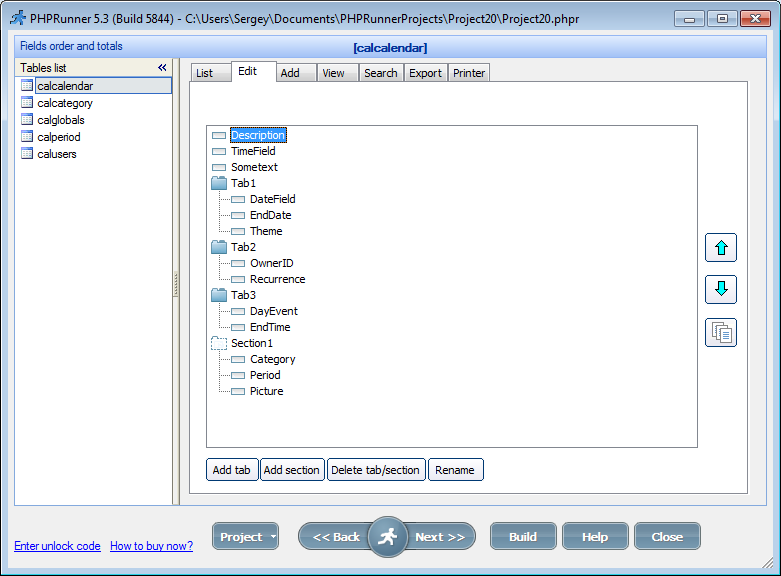 2. Option to display Add/Edit/View pages in popup
To turn this feature on proceed to 'Choose pages' screen and click '...' button next to 'List page'.
3. New 'View as' types 'Video' and 'Audio'. 'Edit as' type can be either 'Text field' (enter video/audio file name there) or 'File/Image' (upload files).
What video file types are supported:
http://flowplayer.or...ical-facts.html
Audio files playback is provided by Yahoo! media player. This player is really nice though it has some limitations (it's a beta version, doesn't work well in IE/Chrome, requires Internet connection to work). Most probably we'll have to switch to another player for now.
4. A number of improvements related to huge (hundreds of tables) projects support. Faster loading, partial rebuild.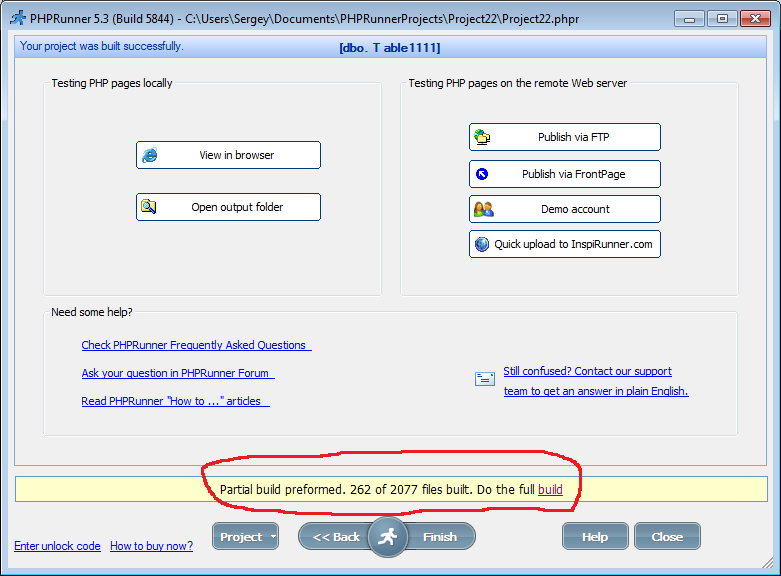 5. Totally revamped events editor.
Filter by event name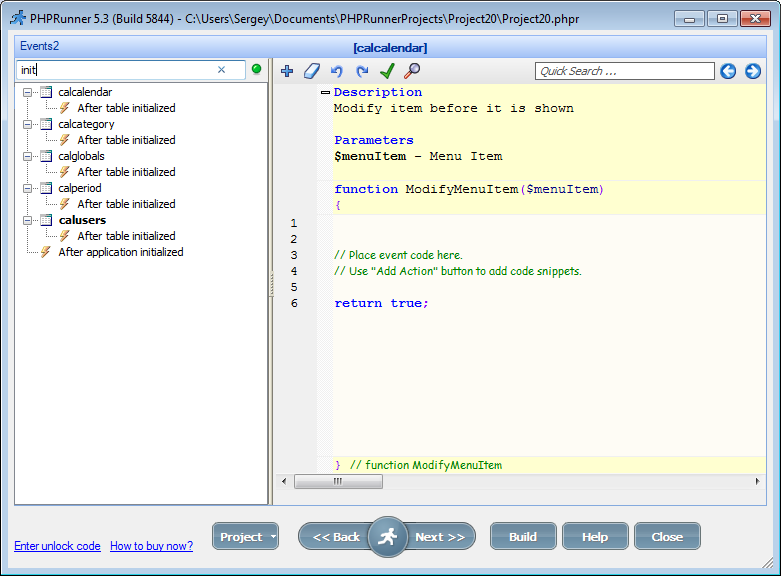 Show events with actual code only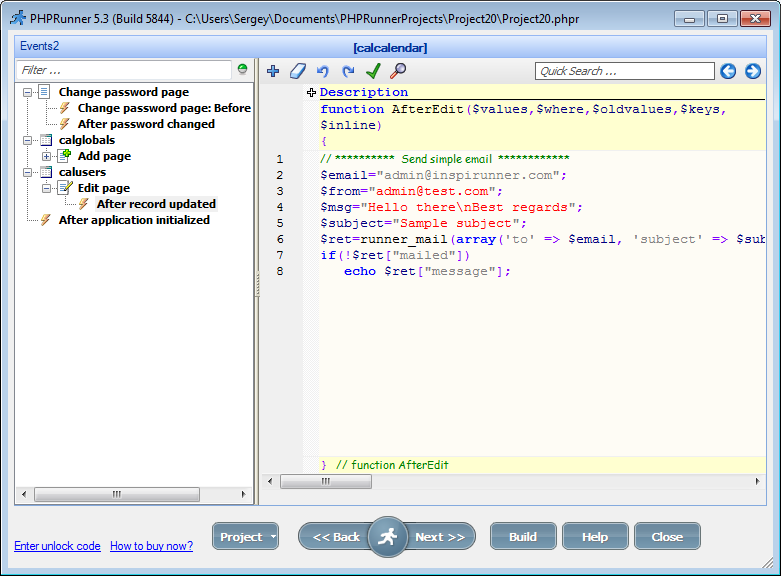 Search within event or within all events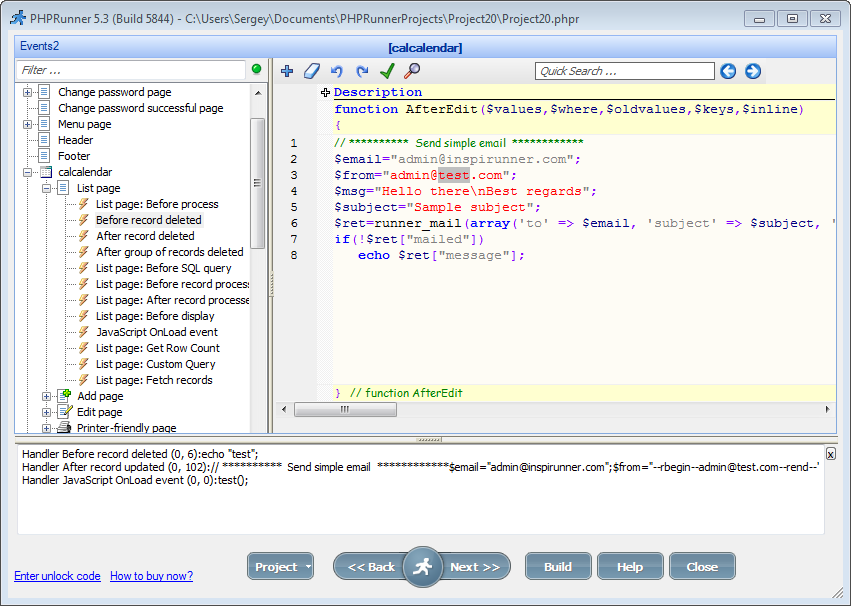 Minor features
4. Search options for fine search tuning.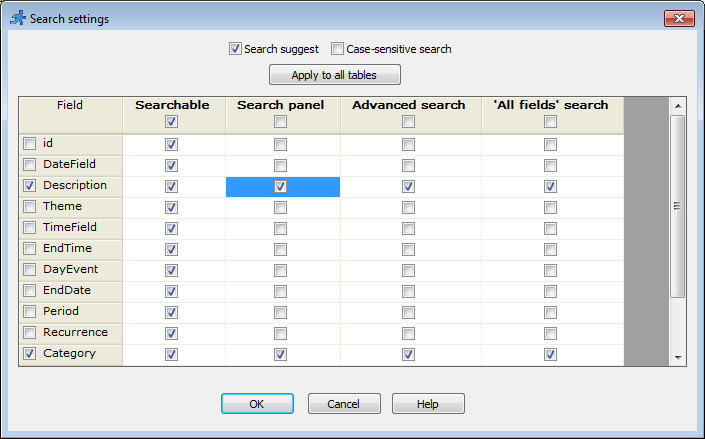 7. Export/import multilanguage labels to CSV to edit in external editor.
8. SMTP mailer support in PHP
You can enter SMTP server parameters under Security->User Login Settings.
9. Audit log events. Turn on Audit function and check 'Before audit log' event.
11. Allow to enter different connection settings for dev/production environment. Proceed to the Output screen to see how it works.
12. Option to access field values in BeforeDisplay Edit/View. Will be available in final version.
13. Option to modify start/end year in date dropdown box (per project). Proceed to any date field 'Edit as' dialog to setup this.
Option to set default number of digits after comma for all numeric fields. Proceed to any numeric field 'View as' dialog to setup this option.
14. Auto-fill several fields on Add/Edit pages with values from lookup table. Set any field 'Edit as' type to 'Lookup wizard' and click 'Autofill' button to see how it works.